What is the Awards tool?
The Awards lets you create Badges and Certificates to reflect the achievement of different milestones within a course. You can design badges and certificates and link them to release conditions to allow automatic awarding. Learners can track the awards they have earned as well as those they have yet to earn from within the Awards tool.
Why use the Awards tool?
There are a number of reasons why you might want to use the Awards tool:
Reward learners with badges or certificates immediately after they have completed an activity or assignment.
Include an element of gamification and better engage your learners by having them "level up" as they progress through the course.
Track learner progress and development.
Build a hands-off method of instant feedback.
Provide learners with certificates that they can share through social media.
Examples
Award a badge to learners who have viewed all the content for a particular module.
Award badges to learners who achieve at least 75% on the module quiz.
Award a certificate to the learners that achieved a specific grade on all of the assignments.
Creating Awards
Badges and Certificates are created using the Awards tool which can be found in the Course Tools navbar or from the Course Admin link. On the first page you will see the classlist, as well as any awards the learners have achieved. This page will also allow you to manually Issue or Revoke awards.
Clicking on Course Awards at the top of the screen will display the awards currently available. Click on Add Awards to Course to add a new award.
You can pick from awards that have been created and shared by other faculty, or you can click on the Create button to create a new one of your own.
When creating your new award you will:
Provide a Name and Description of the award. These are details that learners will see so give it a good name and use the description to give learners the requirements/feedback for earning it.
Select the Award Type depending on whether you want to create a Badge or Certificate.
Use the Availability option to choose whether you want to share your award with other faculty and courses.
Specify an Expiry option if applicable.
Assign an Image for the award. You can pick from the existing library or create and upload your own using the Badge Designer.
Provide details of the Issuer.
Awards and Release Conditions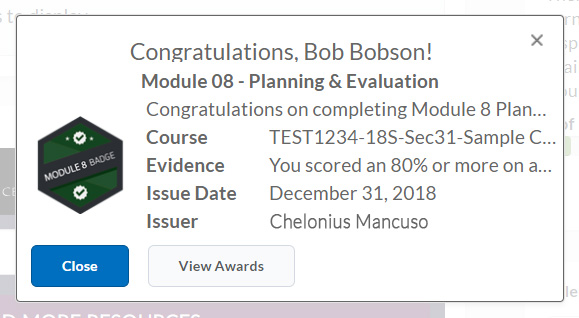 Once you have saved your award, you can associate it with release conditions and credits by selecting Edit Properties on the Course Awards page.
Awards can be achieved based on any one, or combination, of the following:
Achievement of other awards
Checklists
Classlist (e.g. Group Enrollment)
Viewing of content
Score or participation in discussions
Submissions or scores on assignments or quizzes
Values in grades
Completion of surveys
You can assign one or multiple conditions or even issue awards manually if you choose.
Note: Awards take a few minutes to appear to students after they have been earned.