The Grade Snapshot tool lets each student see their current overall grade in your course every time they access the eConestoga course homepage. In this guide, we will answer some basic questions you may have about the tool.
Will this require a lot of setup?
In most courses, the only thing you will need to do is to confirm the start and end dates you would like the Grade Snapshot to be visible. You will be prompted to do this from your course homepage. Once you've set the dates, you can always come back to your homepage and change them later if needed.
If you have a custom or non-standard eConestoga Homepage, you may not see the Grade Snapshot widget on your homepage by default, and will need to add it manually using the instructions in the Grade Snapshot Setup guide.
What does it look like for students?
Once the Start Date you entered arrives, students will see a block similar to this one on the right-hand side of their eConestoga homepage: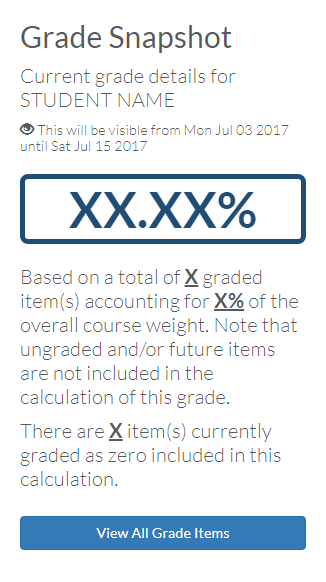 Their grade will initially be hidden to protect their privacy, but can be revealed by hovering the mouse over it (or clicking it on a mobile device). The widget will also attempt to provide the student some context for what the grade means, by pointing out:
How many grade items are included in the calculation, and how large a portion of the final grade they represent.
That the grade does not include future assignments and ungraded past assignments.
Whether the student has any grades marked as Zero that they may be able to improve.
Additionally, the first time a student visits a course after that course's Grade Snapshot becomes available, a pop-up window will appear that announces the availability of the tool and explains the contents of the tool in even more detail.
Will I have to enter my student grades twice within eConestoga?
No. The Grade Snapshot tool uses the data within the Grades area of your course to construct each student's displayed grade. The weighting and point distributions are automatically factored in, as are any special circumstances you have set up, such as "drop lowest".
Which grades are automatically included in this calculation?
The Grade Snapshot will include grade items that are not hidden from students, and which have values entered for that particular student. All grade items which have no grades filled in will be ignored—therefore, we strongly recommend that faculty enter a value of "0" for late assignments, even if the student may still have an opportunity in the future to be re-assessed.
Why do students see a different grade in the Grade Snapshot and the normal Grades screen?
In eConestoga's Grades system, there are two options for how the system can deal with grade items that have been set up but have not yet been completed and graded:
Drop Ungraded Items: The system will use only grade items that have a mark entered when constructing each student's final grade, and ignore the rest. This provides a view of how a student has performed so far.

Treat Ungraded Items As Zero: The system starts all students with a zero in all assignments, and then slowly builds up the student's final grade as they complete assignments. This is a more accurate view of how a student's grade relates to the overall marking scheme.
Treat As Zero is selected in most courses by default, but instructors can select whichever calculation method they prefer in their course's Grades settings. However, regardless of which method has been selected for the course, the Grade Snapshot will always display using the Drop Ungraded method, as its purpose is to give students an idea of how they are performing in the course so far, to help them make decisions about whether to continue or drop a course. Because of this, the Grade Snapshot may display a different grade than your main Grades screen if your course normally uses the Treat Ungraded Items As Zero calculation method. This potential discrepancy is explained to students within the text of the Grade Snapshot widget.
My course is Pass / Fail, what will display for students?
Currently the Grade Snapshot is only configured to display a number value (percentage). In a course with a Pass/Fail evaluation scheme, this will effectively tell students the percentage of graded items they have passed to date.
With that said, we're actively looking to improve the presentation of the Grade Snapshot tool for pass/fail courses, so please do contact us at econestoga@conestogac.on.ca with your suggestions and feedback.
Why isn't the Grade Snapshot showing up in my course?
All of the following conditions must be true before you can configure the Grade Snapshot solution in your course:
At least one student is enrolled.
At least one grade item is set up.
Course start date of Monday, April 2nd, 2018 or later.
If you have a custom or non-standard eConestoga Homepage, you may not see the Grade Snapshot widget on your homepage by default, and will need to add it manually using the instructions in the Grade Snapshot Setup guide.